Here we go again with the latest round of releases and retirements from K&C. It just so happens that last month I spent quite a lot of money adding 13 retired sets to my collection so I'm delighted to say, strangely, that there's nothing this month I want. Chances are the same won't be true for you. Enjoy!
King & Country April 2014 Releases!
Cannons for the Crimea
This latest "Crimean War" release shows one of the coastal Artillery pieces utilized by the Russians to defend their mighty fortress of Sevastopol, the home port of the Tsar's Black Sea Fleet.
For month after month British and French forces laid siege to this great port city. Opposing them were many batteries of defending cannon among them these large guns mounted on heavy steel swivel carriages firmly ensconced behind the high, thick walls of the city's many fortresses.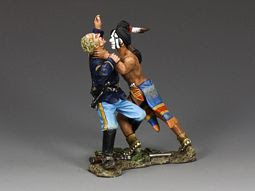 "Little Battle at Little Big Horn"
Here's another great little two-figure "action" set portraying the life and death struggle between one of Custer's corporals and a Cheyenne Dog Soldier.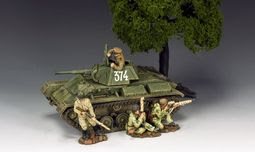 Russian Front
One great little tank and three great looking girls...pity they are all so lethal - at least to Germans!
Russian Front 1941 - German
"Operation Barbarossa" erupted in the June of 1941 Hitler issued his infamous "Commissar Order" that authorized German troops to kill every and any Soviet political officers that fell into their hands...
D-Day 1944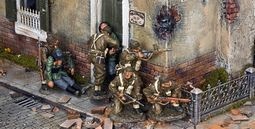 British Commandos
On yet another covert mission somewhere on the enemy occupied coast of France...
King & Country - Being Retired
BEING RETIRED THIS MONTH
Ancient Greece
AG001 Standing Hoplite
AG002 Hoplite on Guard
AG003 Hoplite Officer w/Sword
AG004 Hoplite Soldier w/Sword
AG005 Hoplite w/Long Spear (Horizontal)
AG006 Hoplite w/Long Spear (45 Degree)
AG007 Hoplite w/Long Spear (Vertical)
Australian Light Horse
AL008 Turkish Soldier Standing Firing
AL009 Turkish Soldier Kneeling Firing
AL010 Turkish Soldier Kneeling Loading
AL011 Turkish Soldier Standing Ready
Orient
HK160 Shrine Offering
HK185 Celebrating Chinese New Year
HK186 Forbidden delights
HK187 Gleesome Threesome
Napoleonic
NA243 French Line Infantry Standing Firing
NA244 French Line Infantry Biting Cartridge
NA245 French Line Infantry Loading From Pouch
NA246 French Line Infantry Standing Ready
NA247 French Line Infantry Prepare to Repel
NA248 French Line Infantry Kneeling Firing
Remember the Alamo
RTA007 Mexican Pioneer
RTA023 Juan Seguin, TX
RTA028 John Davis, KY - Standing Firing Rifle
RTA035 General Manuel Castrillon
Nouveau Normandy Village
SP047 Bomb-damaged French House